Billboards
Deciding to add billboard advertising to your marketing campaign can have many positive effects. Not only does out-of-home advertising build brand awareness, but it helps push out your campaign to a potentially huge audience. When it comes time to purchase billboard space you have options. Locally-owned and operated outdoor advertising businesses typically have the most regional knowledge and experience. A billboard franchise company is often a local branch of a larger conglomerate with established practices to follow. You can even strike out on your own and connect with individual billboard retailers to find the best location for your ad. Each type of business offers the same basic service, a billboard to put up your ad. However, not all present that service in the same way with the same level of customer care and support. Who you work with can also impact pricing. Finding the right vendor for your specific needs, that can help guide you through the entire billboard advertising process, is essential.
Billboards are ideal for short term applications, but we have no problems using billboards for anywhere up to two years in direct sun. We still have a couple in Tauranga that we printed more than 5 years ago. And they're still going strong.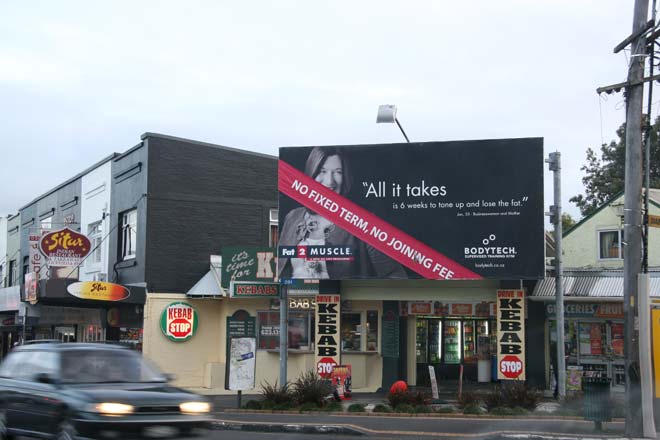 A couple of things to consider when ordering billboards:

For large billboards and banners to be installed around a frame, please supply artwork at 10% final size and bleed at 5mm (50mm final size).
Templates for a 6x3m and 12x3m artboards at 10%
If you have a specific PVC stock in mind, or specific finishing requirements, please call or send us a message and we'll be happy to advise. Some billboard sites also have very specific production requirements that we'll need to talk through.
Sewn & Finished Banners
Finished Banners are a specialty. We're the only printer in Wellington that prints and finishes billboards and banners inhouse*, so you know you're getting the best rate and turnaround.
*sometimes we'll outsource welding on huge jobs. This can add two days.
Finishing can be as simple as pressing in some eyelets across the top edge, or as involved as welding huge panels together and sewing in keder edges and pockets for tensioning track systems.