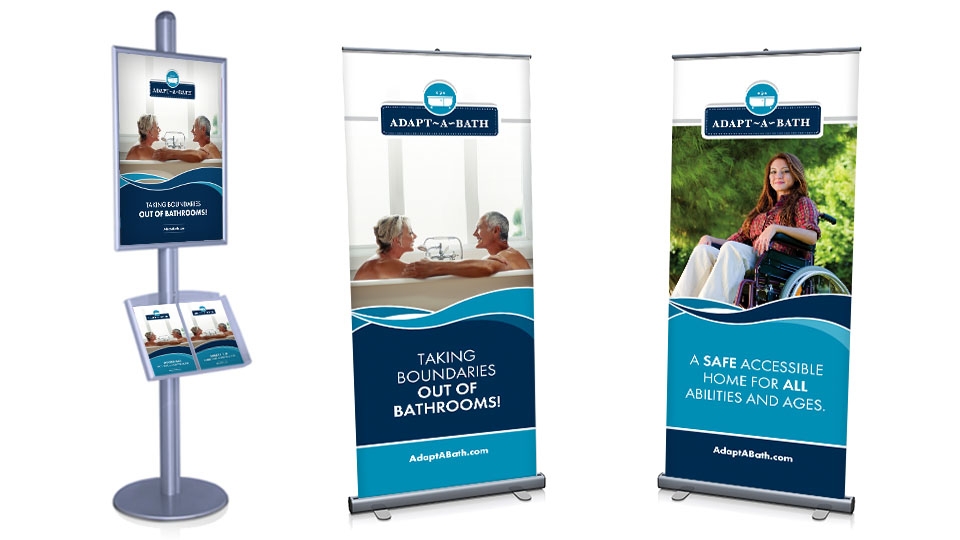 Exhibition & Display Products
(18)
iF you want creative freedom to deliver maximum impact using an exhibition system in any shape, size or fabric, then you want "Exhib Stand". Your exhibition stand will certainly stand out with these portable displays that are easy to install, easy to transport and hard to beat when looking for impact and value.
Exhib Stand is a tension fabric display system that is modern in look and industry-leading in versatility. A single frame combined with a selection of size options can deliver multiple executions in an array of configurations, allowing you to change up your display without heading back to the drawing board. Exhib Stand utilises a lightweight aluminium frame, a tough tension fabric sleeve and dye-sublimated printed fabric graphics producing a vibrant display that will grab attention.
Exhib Stand stands apart from other fabric tension exhibition systems with its ability to deliver a wrinkle free fit and work well with curves and interesting shapes. The aluminium framework can be completely customised to allow you to take advantage of light and shadow in your display, providing depth and presence where others fall flat. With the ability to arc, Exhib Stand can be used to create rounded structures as well as the more traditional display walls, display counters and demonstration tables.
The dye-sublimated fabric graphics are lightweight, easy and cost effective to change out. Printed on a next-generation eco-friendly fabric, one skin can be removed and another one installed within a matter of minutes. The fabric skins are machine washable and mildew, fade and wrinkle resistant and even able to be printed double-sided delivering more efficiencies, cost savings and choice.
As well as being portable and light, Exhib Stand displays demand a tool free set up that's quick and easy. There is no need for a toolbox, in-depth diagrams or detailed instruction sheets. The product joins together intuitively in minutes and with easy assembly comes shorter pack in times at your next tradeshow stand.
For your next pop-up display consider Exhib Stand. They deliver a space efficient, easy to use and reuse, a reconfigurable product that is robust but simplistic in execution. It's a long-lasting, sleek and sophisticated product that delivers a vibrant display.
TENSION DISPLAY WALLS (10)

Display Stands (7)

Display Counters (1)

Pop Up Displays (8)

Rated 0 out of 5

$

186.00

Finished size 600x1850mm
Single sided full colour
230gsm Scrimless Block insert
Delivery 4 to 5 working days
Carry bag included
Artwork and Setup Fees may apply if print-ready files are not submitted.

Rated 0 out of 5

$

486.00

Size W:850mm xH:2000mm
Frame complete with a printed message as per display.
Lightweight, exceptionally stable tube frame.
Interlocking aluminum tube frame with handy number-coded.
Easily assembled and repositioned frame.
Complete with soft carry case.
100% Polyester Fabric.
Matte-finished with no glare.
Machine washable and dryer safe.
Zip is on the bottom of the wall.
All prices plus GST.

Rated 0 out of 5

$

668.90

Size W:915mm xH:2280mm
Single-side full colour
Frame complete with a printed message as per display.
Lightweight, exceptionally stable tube frame.
Interlocking aluminum tube frame with handy number-coded.
Easily assembled and repositioned frame.
Complete with soft carry case.
100% Polyester Fabric.
Matte-finished with no glare.
Machine washable and dryer safe.
Zip is on the bottom of the wall.
All prices plus GST.

Rated 0 out of 5

$

254.00

Finished size 850x2285mm
single sided full colour
230gsm Scrimless Block insert
Carry bag included
Delivery 4 to 5 working days
Artwork and print ready files to be submitted

Rated 0 out of 5

$

600.00

Size W:1220mm xH:2290mm
Single-side full colour
Frame complete with a printed message as per display.
Lightweight, exceptionally stable tube frame.
Interlocking aluminum tube frame with handy number-coded.
Easily assembled and repositioned frame.
Complete with soft carry case.
100% Polyester Fabric.
Matte-finished with no glare.
Machine washable and dryer safe.
Zip is on the bottom of the wall.
All prices plus GST.

Rated 0 out of 5

$

690.00

Size W:1526mm xH:2290mm
Single-side full colour
Frame complete with a printed message as per display.
Lightweight, exceptionally stable tube frame.
Interlocking aluminum tube frame with handy number-coded.
Easily assembled and repositioned frame.
Complete with soft carry case.
100% Polyester Fabric.
Matte-finished with no glare.
Machine washable and dryer safe.
Zip is on the bottom of the wall.
All prices plus GST.

Rated 0 out of 5

$

345.00

Finished size 1000x2010mm
single sided full colour
230gsm Scrimless Block insert
Carry bag included
Delivery 4 to 5 working days
Artwork and print ready files to be submitted

Rated 0 out of 5

$

389.00

Finished size 1200x2010mm
single sided full colour
230gsm Scrimless Block insert
Carry bag included
Delivery 4 to 5 working days
Artwork and print ready files to be submitted

Rated 0 out of 5

Call for Price

Size W:2000mm xH:2000mm
Frame complete with a printed message as per display.
Lightweight, exceptionally stable tube frame.
Interlocking aluminum tube frame with handy number-coded.
Easily assembled and repositioned frame.
Complete with soft carry case.
100% Polyester Fabric.
Matte-finished with no glare.
Machine washable and dryer safe.
Zip is on the bottom of the wall.
All prices plus GST.

Rated 0 out of 5

$

330.00

Size 830x2010mm
Single Sided
230gsm scrimless banner insert
Matt Black Base
Carry Bag included
Delivery 2 to 3 working days
Artwork and setup fees may apply if print-ready files are not submitted

Rated 0 out of 5

Call for Price

Size W:2300mm xH:2300mm
Frame complete with a printed message as per display.
Lightweight, exceptionally stable tube frame.
Interlocking aluminum tube frame with handy number-coded.
Easily assembled and repositioned frame.
Complete with soft carry case.
100% Polyester Fabric.
Matte-finished with no glare.
Machine washable and dryer safe.
Zip is on the bottom of the wall.
All prices plus GST.

Rated 0 out of 5

$

374.00

Size 960X2030mm
Single Sided
230gsm scrimless banner insert
Matt Black Base
Carry Bag included
Delivery 2 to 3 working days
Artwork and setup fees may apply if print-ready files are not submitted

Rated 0 out of 5

$

420.00

Size 1150x2030mm
Single Sided
230gsm scrimless banner insert
Matt Black Base
Carry Bag included
Delivery 2 to 3 working days
Artwork and setup fees may apply if print-ready files are not submitted

Rated 0 out of 5

Call for Price

Size W:2438mm xH:2280mm.
Frame complete with a printed message as per display.
Lightweight, exceptionally stable tube frame.
Interlocking aluminum tube frame with handy number-coded.
Easily assembled and repositioned frame.
Complete with soft carry case.
100% Polyester Fabric.
Matte-finished with no glare.
Machine washable and dryer safe.
Zip is on the bottom of the wall.
All prices plus GST.

Rated 0 out of 5

$

428.00

Custom printed graphics
Carry bag included
Delivery 4 to 5 working days
Artwork and print-ready files to be submitted