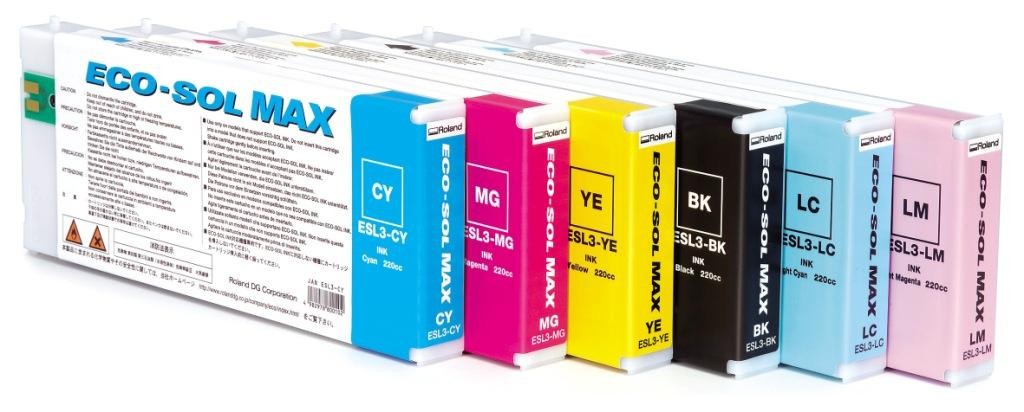 ROLAND ECO SOLVENT INKS
(5)
We directly import OEM eco solvent inks for your Roland, Mimaki, Mutoh and Epson eco solvent ink jet printers. OEM Max Eco Compatible Inks are the best ink cartridge replacements for your ink jet printer with no compromise in quality.
What is OEM (aka: Original Equipment Manufacturer)
OEM cartridges (aka: Original Equipment Manufacturer) are cartridges that your printer manufacturer is counting on you to buy. They are the most expensive since this is how manufacturers make their money back from selling printers at a very low price
The Differences Between OEM, Remanufactured and Compatible Printer Cartridges.
Remanufactured and compatible printer cartridges have been a reliable choice for a number of years, offering the same print quality as original brand cartridges at an affordable price. Even though they've had a long history of success in the printing industry, there are still many customers that are not familiar with these great alternative printing options. In this quick article, we will explain the differences between name brand (OEM), remanufactured and compatible cartridges so you can make the best buy for your budget.
Also known as "aftermarket" cartridges, SIGN CENTRE has been selling remanufactured and compatible printer cartridges since 1999. New customers regularly ask us about the difference between our cartridges and the name brand cartridges that come with your printer. Here, we explore all of the most common questions, including:
What are the differences between OEM, remanufactured and compatible printer cartridges?
How do remanufactured and compatible cartridges compare against an OEM?
Can I expect the same page yield and print quality as an OEM cartridge?
Will using an aftermarket printer cartridge void my printer's warranty?
What are OEM printer cartridges?
OEM, or name brand cartridges are made by your printer manufacturer.  These are the cartridges that come with your printer and are commonly called "OEMs" (original equipment manufacturer).  OEM cartridges can be quite a bit more expensive than aftermarket cartridges due to the research and development costs that go into their production.  They are known to be very reliable and are sometimes the only option available if your printer is new or uncommon
What are remanufactured printer cartridges?
A remanufactured cartridge is an OEM cartridge that has been professionally cleaned, rebuilt and refilled with ink or toner by a manufacturer other than your printer.  These cartridges have been used once, they are then recycled, acquired by a manufacturer and put through an extensive remanufacturing process.  Remanufactured cartridges use the same shell as an OEM cartridge, so they have a similar appearance to the OEM product. To start, the cartridge is disassembled, cleaned and tested for quality.  Worn or damaged internal components are replaced, the cartridge is reassembled and refilled with ink or toner.  Remanufactured cartridges offer the same page yield as an OEM cartridge, getting you comparable prints for a better overall value.  Why the difference in cost?  Simply put, they do not require as many new components to create a finished, working product.  By using the original shell and most of the original internal parts, manufacturing costs remain low.  Remanufactured cartridges are an environmental friendly option too, preventing one less cartridge from entering the landfill.
What are compatible printer cartridges?
A compatible cartridge is a brand new printer cartridge built by a manufacturer other than your printer.  These cartridges have never been used before and are uniquely designed to differentiate from the OEM cartridge they are based on. Despite any structural differences, they are designed to fit perfectly in your machine and print the same number of pages, just like the OEM cartridge.  It is similar to buying the generic version of a OEM product. Compatible cartridge manufacturers can keep costs low because they don't have to worry about the same research and development costs or firmware updates that OEM manufacturers deal with, passing the savings onto the customer.
Can I expect the same reliability as an OEM printer cartridge?
Yes, you can expect the same reliability as an OEM cartridge, as long as you buy from a reputable manufacturer.  There is a lot of competition in the aftermarket printer cartridge industry and with that, you get varying degrees of quality and reliability.  To find a reliable provider, you'll want to take the time to do some research.  A high number of positive reviews and a strong product guarantee are two surefire signs of a solid manufacturer.  LD Products is a great option.  We have been selling thousands of our own LD brand aftermarket cartridges for close to twenty years and we cover almost every printer model on the market.  Our cartridges earn consistently high reviews from customers and best of all, they are all backed by an industry-best lifetime guarantee.
Can I expect the same page yield and print quality as an OEM printer cartridge?
Yes, aftermarket cartridges from a trusted manufacturer like LD Products will print the quoted page yield and offer a similar print quality as an OEM cartridge. All LD brand cartridges go through an intensive quality and reliability test to ensure you receive a reliable product. We fill all of our cartridges to the printer manufacturer recommended ink levels so you get the same number of prints, as based on ISO/IEC 24711 specifications. There is always a small chance that you could receive a defective cartridge. Even with OEM cartridges there is the occasional bad apple in the bunch, which is why it's important to buy from a supplier that offers a strong product guarantee. At LD Products, all of our cartridges comes with a lifetime guarantee, so you can shop with peace of mind.
Will using an aftermarket cartridge void my printer's warranty?
Your printer warranty cannot be voided if you decide to use an aftermarket printer cartridge. The Magnuson-Moss Warranty Improvement Act protects your rights as a consumer to install remanufactured and compatible cartridges in your machine. No company, associate, salesperson, or service technician can deny you service or a refund that would otherwise be covered under a warranty program simply because you use a compatible product. You have a right to choose what you install in your printer!
Brand names are trademarks of their respective owners and are not affiliated with SIGN CENTRE Products.
Why buy OEM.
An OEM ink cartridge or a remanufactured ink cartridge for your printers when you can get perfect quality inks at a fraction of the cost?
Sale!

Out of Stock

Read more

Rated 0 out of 5

$

545.00

With our 5 Pack starter kit you can get going faster and save

Generic Roland 440ml One-time Ink Cartridges:

Roland Printer compatibility: FJ-540 / FJ-740 / SP-300V / SP-540V / VP-300I / VP-540I / SJ-540 / SJ-645 EX / SJ-655 EX / SJ-740 / SJ-745 EX / SJ-1045 EX / SJ-1000 / SC-540 / SC-545 EX / XJ-640 / XJ-740 / XC-540 / XC-540W / XC-545MT / FH-740 / RA-640 / RE-640 / RF-640A / RS-640 / RF-640

Roland BN-20 Eco-Sol Max Solvent Ink Cartridges coming soon.